Yes, @TIL is back.
Yes, to full activity.
Yes, there is more to come tonight. 👀
Because I have an actual computer I've found it easier to work on different parts of @TIL. I now have parts of the project I work on to feel better about the parts that are frustrating in a given moment.
This is one of those things I realise that further motivates me to work.
Issues like this are exactly why I appreciate Micro.blog so much. Manton has repeatedly spoken about the importance of maintaining export features. It comes down to this:
Freedom of movement of data = independence online.
It should be a priority for all service providers.
I'm quite happy with how v1.8 of the TIL site has ended up. Feels like the small improvements have added up over the past few updates, and the larger redesigned elements are always fun to reveal. This time around the footer got the big change: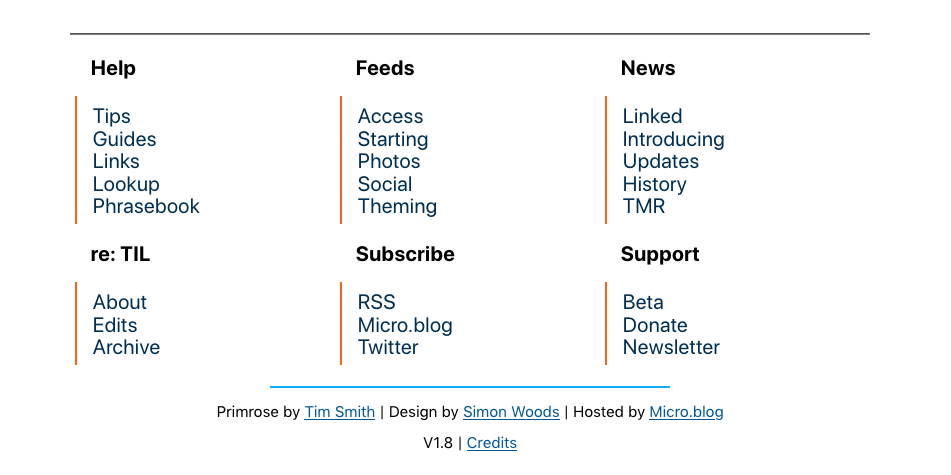 Have yet to spend time learning Hugo; evenso I enjoy working on the theme for @TIL with some HTML and CSS. I love that I can make design choices knowing that in the future I'll be able to implement at the template level, with basic customisation then left for temporary changes.
Hoping we still get a day's worth of wiggle room for late entries in the photo challenge 🙏 @jean @challenges
Between the coffee and catching up on Core Intuition it looks like Finish Friday is a reality for me with @TIL today. 💪
First day of the return of @TIL 🎉
Now in the new house, with a computer that is so very good, and a much better environment overall… this is a much more substantial return, thankfully, finally.
If you're taking part in the October Photo Challenge, you'll like the latest Tip. 👀
A Beta Way to Help @TIL
There is now a beta program for Today I Learned! You can take part via the new newsletter, and receive the welcome message when you sign up.
Get access to pre-release material. 🎉
Contribute to making TIL better. 🤯
Support an indie. 😎
👉 Sign up 👈
I'm looking at these screenshots of the new Safari UI on Daring Fireball, and am reminded of when I recently used my wife's M1 MBP. Now I am using my own MBP, it is 10 years old, and I'm using High Sierra… seriously, @gruber, my Safari is better which is just ridiculous.
📣 Today I Learned will return Monday, 4th October
Regular posts 💪
Updated pages ℹ️
Post Haste 📪
… and more 👀
A special preview edition of ICYMI is available. You can check out Post Haste on the Subscribe page or subscribe, and receive the Preview, using the form below.
The new auto-https for Micro.blog is ridiculous. Practically instant.
Related: simonwoods.online is back 🎉